Mediquip Still Scaling Up After 40 Years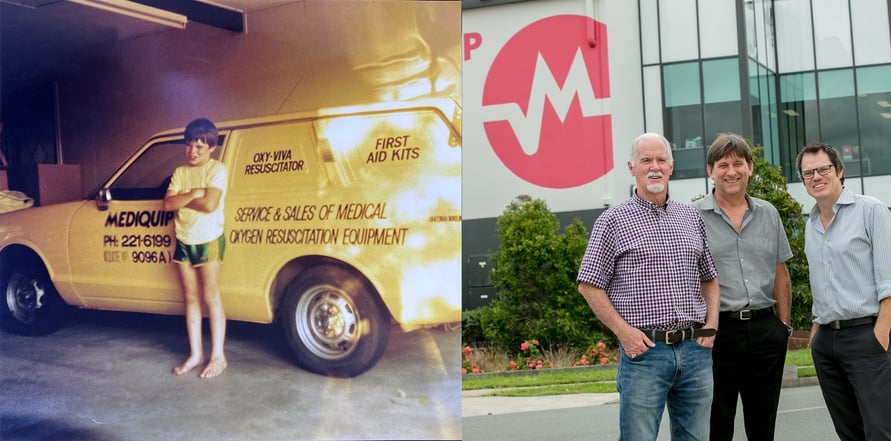 Top L: Kurt Hogan with his Dad's company vehicle early 80s. Top R: Founder Mike Hogan with business partners Glen Raines and Kurt Hogan. Very Top: Around a third of the current Mediquip team.
Mediquip Still Scaling Up After 40 Years
Since starting as a service business for medical gas and resuscitation equipment in 1983, Mediquip's service backbone has provided strong foundations for its growth into a diversified medical business across service, equipment and consumables.
From a one-man band with a passion for great customer service and technical excellence, as Mediquip marks its 40th anniversary it has over 90 team members around Australia working across healthcare, simulation, service, dental – and its veterinary business MQ Vet.
Kurt Hogan – who was the company's first full-time employee working for his dad Mike, the founder – said he believes the team's commitment to providing great solutions for customers and making sure they're left satisfied is what's allowed Mediquip's solid consistent growth over the decades.
"From the early days servicing south-east Queensland small businesses, we acquired service businesses around Australia and opened offices in other states, and now have field service engineers within two hours drive of 90% of Australia's population," Kurt said.
Glen Raines became a partner in Mediquip in 2004, bringing his wealth of experience in technical servicing, expanding the business into biomedical and growing its product portfolio in healthcare, simulation and veterinary.
"There were a lot of companies importing medical equipment but they didn't know how to service and maintain it. So around 2007 we started securing our own agencies for leading manufacturers from around the world.
"With our service base came sales – people trust people who service their equipment and they look to them for advice. And Mediquip is there for follow up, committed to sorting out issues and for support and advice," Glen said.
Mediquip now has a very diverse portfolio, with particular strengths in CSSD / sterilisation, medical gas equipment and consumables, gas control and engineering, medical lighting and simulation.
CEO Daniel Berndt, who joined Mediquip around 18 months ago, said as the company looks forward to accelerated growth, it will continue to be known for authenticity and as a solutions provider.
"As we grow our team and introduce more technology-led products, we're committed to prioritising relationship and technical support," said Dan (pictured below with Mediquip national service manager Chris).
"We'll be scaling our business to support more customers with more solutions and are motivated to help support our healthcare partners to achieve greater efficiencies and better clinical outcomes, and to provide excellent after-sales support."